"Every great dream begins with a dreamer. Always remember, you have within you the strength, the patience, and the passion to reach for the stars to change the world." – Harriet Tubman
Everyone dreams.
A fulfilled dream gives strength, happiness and satisfaction in life. On the other hand, it will be a nightmare or a life-long battle to accept the failure – dreams unfulfilled.
Let us see how you can turn your passions to drive towards the sweet success.
Desire
One should have a strong desire to achieve the dream.
Desire is the starting point to achieve success.
Desire helps you overcome the obstacles.
In other words, you will not be hindered by the obstacles.
In spite of successive failures, desire makes you move forward.
Abraham Lincoln, the President of United States of America, lost all the elections he participated in, but won the one and only, that was for president-ship of the United States of America.
Had he been discouraged with all the failures, he would not have participated in elections at all after losing 8 times in elections, 2 times in business and a severe break down of health.
With grit and dogged determination, he moved ahead in spite of all the turbulent events and thus achieved the sweet success in the background of all the humiliating past battles.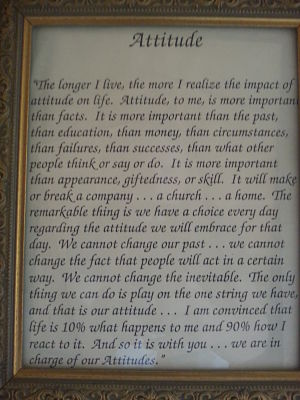 Attitude
The way you feel, the way you sense things and the way you respond to situations can change your life.
Elimination of ego and negative mindset will drive you forward.
There are unlimited opportunities in the world we live but the time is limited.
Having a right perspective on life, conceptualization of your dream and possession of a positive mindset will keep you on the road to success.
If you have the right attitude, you will be ready to accept the fact.
You will be ready to learn from others' as well as from your own mistakes. Many-a-times people will end up in ego and thus go away from their goals or targets in life.
It will be a sheer waste of time and effort to be carried away with attitudinal issues.
Hence, accept your faults, minimize your mistakes and maximize your learning to go ahead in your success journey.
Focus
You should have focus on your goals.
In spite of all the odds, you should chalk out a strategy to go ahead with a plan to achieve success. Napoleon Hill in his book, "Think & Grow Rich" talks about a person (Mr. Barnes) who wanted to meet Edison – the inventor of the light bulb.
Barnes wanted to work with him. And, at that time he had no money to go and he didn't know Edison either.
Barnes traveled on a goods train and landed in front of Edison and introduced himself by telling him the purpose for which he came there.
The business association was successful and it was realized by Mr. Edison (after many years) how valuable Mr. Barnes' association with him was.
Fulfillment of your dream may take years as it depends on the magnitude of your dream, the resources you have and your abilities to channelize your dream.
Discipline
Discipline is essential is every sphere of life.
All the stalwarts of business community had the greatest discipline both in personal and business life. Inculcating values and standing for values help you move ahead in life.
You will win many natural friends and there is also possibility to win your enemies in this manner. Diligence, integrity and punctuality are important qualities to realize your dreams.
Above all, you should be honest enough to work towards the set goals.
There is no substitute to hard work. Honoring commitments is vital to build trust among your business associates and customers.
Balanced diet, sufficient rest, physical exercises and spending quality time with family members will take you a long way in achieving your dreams.
Review
Periodic review and assessments are not only meant for organizations and business groups, they are equally important in one's very own life.
You should analyze where you are standing at the moment. You should know how far you moved towards your goals in life.
Review and assessment will help you understand how efficient you are in utilizing the opportunities and resources in the limited period of time.
It will also give you a new vision to achieve your dream or well exceed your dream.
Most of the Olympic gold medalists will break their own records every year and thus setting a new dream for themselves and others to achieve.
Business perspective
By having the desire to achieve success in business, you will be able to focus on the goal to reach.
For example, if you want be a successful blogger in your niche, you should be disciplined enough to carry on the task.
Presentation of quality, timely and useful content will attract visitors from all corners.
By accepting faults or drawbacks (even from criticism) and learning from them, you will move ahead to the next level.
By updating your knowledge in chosen area, you will be able to offer the latest and fresh meat to your readers.
By adopting new technologies and new marketing strategies you will be in the forefront of your business.
Individual discipline and having composure will take you long way in fulfilling your cherished dream in no time.
Hope these points will help you to nurture, nourish and realize your most cherished dreams.
 Related Posts: