"Meditation is all about the pursuit of nothingness. It's like the ultimate rest. It's better than the best sleep you've ever had. It's a quieting of the mind. It sharpens everything, especially your appreciation of your surroundings. It keeps life fresh." – Hugh Jackman
I recently got hold of a program that claims to be the next generation in meditation. It's called Zen12.
Zen12 is an audio meditation program that uses special "brainwave" sounds to take the hassle out of meditation. Zen12 was created by the same folks that created the Brain Evolution System which I still listen to on a semi-regular basis.
They claim that listening to one of their Zen12 sessions is easy. There are no rules, no emptying of your mind, no special positions. You just hit play, and let the session do the rest of the work for you.
It's like having an easy guided meditation that does the work for you. They say the special sounds will automatically relax your mind and body.
Zen 12 is a great meditation tool for beginners and advanced students. Meditation can be used  for sleep or for productivity – The choice is yours. And each session lasts just twelve minutes, so it won't be a strain on your day.
For many people, the word "meditation" conjures up images of monks in a monastery, draped in long, flowing garments as they sit around in silence seeking that oh-so-elusive state of enlightenment.
But, really, that's not what it is at all.
It might surprise you to learn that you can practice meditation anywhere and at any time. In fact, if you weren't busy reading this article, you could do it right now.
All it takes is a few minutes of your time and the ability to focus on something. So why do so many people struggle with the concept? You probably know that meditation began thousands of years ago as a spiritual practice.
But we're in the 21st century now, things have moved on a lot since then, and it's time to get rid of the myths and old wives' tales surrounding meditation and muddying the waters once and for all.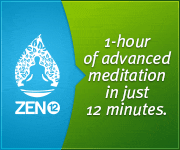 Zen 12 and Meditation Myths
Myth No. 1: You need to clear your mind
If you've ever tried it, you'll know this is literally impossible. The idea is not to empty your mind, but to slow it down so you can regain a bit of perspective.
Myth No. 2: You need to sit still for hours on end
Who's got that kind of time? It's better to meditate for 5 or 10 minutes every day than not at all. Just sit somewhere and focus on your breathing. Simple, right?
Myth No. 3: You need training to do it right
Basic meditation is achievable by anyone. You can do it as you walk to the bus or tube station, or when you're soaking in the tub. nFind something to focus on like your breathing or your footsteps. Your mind will wander, but just bring it back to what you were focusing on and… voila! That's meditation.
Myth No. 4: You need to be a bit of a geek
Geeks can meditate if they want to, but so can everyone else. You don't have to learn Sanskrit to do it – just sit somewhere and breathe. You'll be joining a group of more than 30 million Americans, including NFL players and US Marines. They can't all be geeks, can they?
Myth No. 5: It's too difficult!
No, it's not difficult at all. The only difficult part is getting started, finding the opportunity to meditate that first time. And speaking of time.
Myth No. 6: It takes too long
How long do you spend checking messages on your phone? Reading updates on Facebook? Watching TV? Sending Tweets?
You've got plenty of time to spare – so take 5 or 10 minutes to do something that will seriously benefit your physical and mental health. The secret is to fit meditation into your lifestyle. Spend a few minutes in the garden breathing in the aromas around you.
Close your eyes and listen to the sounds in your neighborhood. Take 2 minutes before you get out of bed in the morning to think about the people you love.
They're all examples of simple, practical methods of meditation, and you don't have to be a monk to achieve any of them.
What Is Meditation and What Does it Do For You
"Meditation reestablishes our contact with the Source of Power within us. It cleanses the mind and makes us open and receptive to creative ideas, intuition and inspiration.
It reveals where we have gone wrong and guides us back to the right path again. We become one with everything and everyone because, as we mediate, we tune into One Mind of the universe.
It helps us to achieve our full potential through deep rest of the nervous system, rest which is deeper than ordinary sleep but, throughout which, we remain alert.
During this time, stress is released and we are fully relaxed and calm. Just as an athlete runs to train his body, in meditation, we are tuning and training the mind to function at its maximum potential.
This is one of the basic reasons why meditation increases efficiency in everyday life." – Dr. Robert Anthony
>>You Can Download your free Zen12 meditation MP3 here.
Just fill in your name and best email and they will send you your free copy. I already have a copy saved on my computer.
They will not share your information nor will they spam you either. You can always unsubscribe at any time.
>Would you like to try a free download of the Most Powerful Meditation Audio EVER? Visit Zen 12

>Or go here to the Zen 12 homepage to buy the full version today.
P.S. I am an affiliate for this product and will receive a commission on any sales. 🙂
Related Posts: