"Never make negative comments or spread rumors about anyone. It depreciates their reputation and yours." – Brian Koslow
Back in January of 2012 I decided that I was going to do less blog commenting this year so I could focus on more important blogging activities. At one time in 2011 I was commenting on over 70 blogs a day.
For those who may not know about blog commenting let me explain.
For smaller blogs like mine the majority (over 99%) of commenters are from other bloggers.
Why would other bloggers want to comment on my blog, or on any other blog for that matter; BACKLINKS.
Yes, backlinks. Since Google is the "big cheese" on the web; all website owners want to do what needs to be done to get their website listed on page one of search engines.
Backlinks are one of the surefire ways to get this done.
If you go down to the comments on most blogs and click the name of the person leaving the comment you will be re-directed back to their website.
This is a backlink. Link one on website "A" connecting to link two on website "B".
Keep in mind that backlinking is not the main reason that my fellow bloggers leave comments either. Commenting is also a great way to reach out to other bloggers and commenting creates a sense of community if done right.
Plus a surefire way to get comments on your blog is to leave comments on other blogs. (Especially smaller ones with little traffic, they would totally appreciate your support.) 😉
Alexa Ranking
My Alexa ranking was at 70k Worldwide towards the end of 2011.
Once I stopped commenting my Alexa kept going up each day and now it is at 180K Worldwide. With Alexa the lower the ranking the better.
Google's ranking is #1 FaceBook #2 and so on.
An Alexa ranking secret that you may not know.
Comment on 10 different blogs a day and not the same one's and watch your Alexa ranking go down fast.
Alexa only counts backlinks on a blog once. It does not matter how many times you commented on the same blog.
Do some commenting variety, but also make sure your comments are sincere and are related to the post.
LiveFyre
In the beginning of 2012 I added LiveFyre as my commenting system instead of the default WordPress system that comes with my blog.
I was hoping that this might encourage non-website owners to leave comments. (I since switched back to the default WordPress commenting system).
BTW,LiveFyre is a fine system and I have no complaints whatsoever.
The majority of my readers (99%) don't leave comments
One thing that I noticed when I stopped leaving comments on blogs was that the comments on my blog posts drastically reduced.
At one time I was averaging around 30 comments a post and I believe several posts had around 70-80 comments. Not bad.
The reason why bloggers, (especially new ones), like comments is because of the social proof.
There's nothing sadder in the online world than a blog that writes great content and there are no comments after the post.
When someone takes the time to leave a comment it adds value to the post. It shows that someone cares.
Many non-bloggers are a bit shy about leaving a comment and I get it.
Maybe you are worried about proving your name or your email address. I understand your concern, but I don't even look at the email addresses that go with the comments unless the comment is just plain spam.
The web is really strict about spamming people so I don't participate in that.
If you want to stay connected with Mazzastick you can easily sign up for my newsletter and you can easily unsubscribe at anytime.
I don't do anything either with the email addresses that I get for my newsletter. I just get excited when I get a new sign up and all I do is look at the name of the person who signed up.
Turning off blog comments
Last month I decided to do a little experiment by turning off blog comments for new posts.
I wanted to see if it made any difference to my blog traffic, social shares (Facebook, Twitter).
It was nice for a while not having to moderate the comments and to deal with spam, but it also left me without a vital form of feedback and interaction.
So on June 10th 2012 I decided to turn comments back on and I went back to using the default WordPress commenting system.
My Google search traffic has gone down recently and I was wondering if turning off comments had anything to do with it.
This is not the main motivating factor for me turning comments back on, but it is was a factor none the less.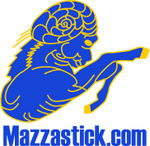 Purpose of Mazzastick
I started Mazzastick as a means to get information out that is not mainstream. I am a big fan of esoteric stuff and things that many don't know about.
I love it when I write a post about a weird topic like Reptilians or the Moon and get comments like: "That was the most bizarre thing I ever read, Thanks for sharing."
I never wanted to be famous from this blog, or to be anyone's guru. I, like many of you have had hundreds of growth experiences (painful events) and wanted to be able to share what I learned to overcome them.
Do I want to make money with my blog?
You bet cha! Of course by receiving value – energy (money, love, social shares) I feel as though what I am doing here matters (materializes).
Starting a blog just to make money was never a motivating factor for me. I do believe however energy out – writing free content- deserves energy in – money, social shares – newsletter sign ups and so on.
The motivating factor for me was to be able to honestly and ethically earn money online and then to turn around and teach others to do the same.
Basically blogging was an experiment for me to – (A) see if earning money online without scamming or spamming people was possible, and ( B) to teach others how to do the same.
I also like reading and writing about outside of the box topics so be on the lookout for more of these this year.
Most people think Mazzastick is a blog about personal growth but that is only partially true. The main purpose of Mazzastick is about raising your awareness, or expanding your awareness.
I didn't want to box myself in with only one theme such as personal growth.
I wanted to leave myself open to write about topics that I believe isn't "mainstream" either. The truth is that the personal growth niche is saturated like the marketing and make money blogging niche. You gotta stand out with original and compelling content. I know, easier said than done. 😉
Teaming up with other bloggers
I have been busy this year teaming up with fellow bloggers. It seems that almost weekly I am being asked to write a guest post, read and provide a testimonial for a product, or team up for a new project.
I almost always say "yes" because that is what blogging is all about.
In between posts you may see a review post or a special offer post. 99% of the time the creator/ owner of the product or service asks me to tell my readers about their new projects; some are free, and Yes, most of these products I am an affiliate for, and yes, I will earn a commission if you choose to buy.
Helping others and helping yourself at the same time – creating win-win situations. This and this alone has helped me to grow my blog to where it is today.
Related Posts: