I am happy to announce that the Overcoming Fear eBook and Audio Program that I co-authored has been reduced to $5.99 for 72 hours only. That's Friday May the 18th through Sunday the 20th until midnight.
You can now get this book for free at the end of this post by signing up for my free newsletter.
The overall feedback on the Overcoming Fear program has been very positive and supportive.
I wanted to offer the program at a reduced price for a limited time to give people who may have been on the fence about buying it another chance to do so.
So why would you need to Overcome your fear anyway?
To rise above your perceived fears is to view it from a higher perspective. A more empowering perspective as instead of a limiting one.
Fear is an insidious emotion that sort of lingers dormant until triggered by an event. Many people assume they don't have fears until something in life triggers it.
What many do is fight with the feeling or even worse, they suppress it.
What happens when you push a ball under water?
It stays there right ?
What happens when you let go?
It rises right back up to the top doesn't it. The same goes with your fear.
Fear is there for a reason, to get you to act. Not to get you to resist it, suppress it or ignore it.
How do you handle Fear?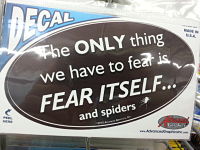 "Fear is the main source of superstition, and one of the main sources of cruelty. To conquer fear is the beginning of wisdom."
Bertrand Russell
"Avoiding danger is no safer in the long run than outright exposure. The fearful are caught as often as the bold."
Helen Keller
"You can discover what your enemy fears most by observing the means he uses to frighten you."
Eric Hoffer
"You gain strength, courage, and confidence by every experience in which you really stop to look fear in the face. You must do the thing which you think you cannot do."
Eleanor Roosevelt
"The oldest and strongest emotion of mankind is fear, and the oldest and strongest kind of fear is fear of the unknown."
H. P. Lovecraft
"Inaction breeds doubt and fear. Action breeds confidence and courage. If you want to conquer fear, do not sit home and think about it. Go out and get busy."
Dale Carnegie
"The enemy is fear. We think it is hate; but, it is fear."
Gandhi
Update: You can get a free copy of The Overcoming Fear eBook by signing up for my free newsletter.
Sign up here and you will get the PDF file in your final welcome email.
Related Posts: