"I think most people, even if they say they hate horror movies, there's that feeling you get inside that you love.
I mean, I love it. I love to have the hairs on the back of my neck stand up or get that chill up my spine." – Barry Watson
What is Monster-Mania Con?
Monster-Mania Con (convention)  is a semi-annual traveling convention for fans of horror movies, horror film memorabilia including autographs, photos with, and Q&A with horror actors.
This is my second year in a row attending Monster-Mania Con and my third time overall.
The First time I went was back in 2005, and then 2012 and 2013.
The show hasn't changed much since, but being a longtime fan of horror movies, plus the fact that I have a morbid mind, I truly anticipate this event every year.
If you're thinking this is a "scary event" it's not.
I find the vibe to be rather relaxing myself, and all of the people there seem to really be enjoying themselves.
There are many "costumers" there and all of them are more than gracious when you ask them for a picture.
This year Adam West and Burt Ward  from the popular Batman Television series from the 60's were the featured guests.
There was a line waiting for autographs and pictures with them the entire time I was there.
Even though I was a major Batman and Robin television fan growing up, I did not get an autograph.
I did however, stay for about fifteen minutes to listen to the Q&A with Adam West, Burt Ward, and Lee Meriweather. All I can say is that all three of them are as charming and kind as anyone can be.
Unfortunately, Roddy Piper did not make it this year even though he was booked.
Apparently due to a filming conflict in Canada, Roddy could not attend Monster-Mania Con this year. This was bad for me since I was a huge wrestling fan growing up in the 80's, and "The Rowdy One" is one of my all-time favorite wrestlers.
There's always next year Roddy! 🙂
Greg the Hammer Valentine was there even though I did not get a chance to talk with him, however I did get to talk with Nikolai Volkoff who back in the day was a heel along with his tag team partner The Iron Sheik.
I used to get a kick out of it when Nikolai would sing the Russian National Anthem just to piss off the American Audience. Good times, good times!
Volkoff was a pleasure to talk to, and since he is a Baltimore native, we had a lot in common to talk about.
Michael Madsen from Reservoir Dogs and many other movies was not at his table for the longest time, but did eventually show up to sign autographs for the long line of people waiting.
Eventually, when I ventured down to the Dealer's room to see Michael Madsen, he was already gone. Perhaps a late night, who knows?
I also had a great conversation with Philip Friedman – The Evil Lady in black from Insidious and also L.C. Holt from You're Next.
It's truly nice to see that not all celebrities are "stuck up", because quite the contrary, most if not all the celebs I have met at Monster-Mania Con have been really cool for lack of a better word.
My favorite part of Monster-Mania Con is the Q&A with the actors.
Rob Dimension usually hosts the Q&A, and he asks questions when the audience doesn't have any.
For me, it's really invigorating to be seated literally ten feet away from some of my favorite horror movie icons, and listen to them tell their fantastic and sometimes humbling stories of what is was like becoming an actor, and the fun and not so fun things that happen when making a movie.
The Q&A last about 45-50 minutes followed by the celebrities posing for some photos for their fans at the end.
Kane Hodder and R.A. Mihailoff have a movie coming out with director, actor, musician, etc – John Schneider. Yes, Bo Duke from the Dukes of Hazzard.
The movie is titled – "Smothered" which is a horror film with a little comedy mixed in according to Hodder when he spoke at Monster-Mania Con Q&A.
Hodder is also part of a paranormal ghost hunting team called: Hollywood Ghost Hunters and features fellow icons such as Steve Nappe, R.A. Mihailoff, Danielle Harris, and Rick McCallum.
In addition to the above mentioned, Monster-Mania Con has a ton of vendors that set up shop throughout the hotel.
Many of them sell horror icon figures, pictures, photographs, cartoon drawings of yourself as a Zombie, horror classic DVD's, jewelry, photos of you with your choice of horror background, and a lot, lot more.
Also, there is a designated movie theater room setup that continuously plays horror movies for your enjoyment!
The cost to get into Monster-Mania Con is $25 per person for the day, or you can purchase a weekend pass (Fri, Sat, Sun) for $50. Children 10 and under are free when accompanied by a paying adult.
I would like to see Monster-Mania Con be a little scarier.
Perhaps only play horror movies in the movie room. This year they played movies like Better Off Dead, Star Wars, and Batman and Robin along with classic horror flicks.
I want horror movies only! 🙂
Perhaps some decorations/props as well. I want to feel a bit scared when I enter Monster-Mania Con. All in all though, I love this event.
Horror Celebs that I would like to see at Monster-Mania Con are:
Paul Ehlers – Madman Marz – Madman
Amelia Kinkade – Angela – Night of the Demons (1988)
Garry Robbins – Humongous
Michael Berryman – The Hills Have Eyes
Bill Moseley – House of 1000 Corpses among others
Brad Dourif – Chucky – Child's Play
Warwick Davis – Leprechaun
Celebs at Monster-Mania Con 2013 in Hunt Valley were:
Adam West – Batman and Robin Television Series.
Burt Ward – Batman and Robin Television Series.
Lee Meriweather – Catwoman from the Batman and Robin television series.
David Prowse – The original Darth Vader from Star Wars.
Heather Langenkamp – Nancy from A Nightmare on Elm Street.
Carel Struycken – Lurch from the Addams Family Movie, Witches of Eastwick, Twin Peaks. (What a gentleman, that's all I can really say about this 7 foot tall, well spoken, kind man).
R.A. Mihailoff – Texas Chainsaw Massacre 3, Hatchet 2 (and not someone you want to meet in a dark alley).
Kane Hodder – Friday the 13th – 7,8,9,10/X – Hatchet 1,2,3 (and not someone you want to meet in a dark alley).
Felix Silla – Cousin It (Original Addams family) and Twiggy (Buck Rogers). Funny as hell too!
Lisa Loring – Wednesday (Original Addams Family).
Kari Wuhrer – Anaconda, Thinner, Hellraiser. Down to Earth, real person and still looks incredibly hot! 🙂
L.C. Holt – You're Next.
Philip Friedman – Insidious.
Kristen Hager –  Being Human, Alien vs. Predator Requiem. (I didn't get a chance to talk with her, but she seemed "super friendly.")
Oliver Robins – Robbie from Poltergeist and Airplane 2 the Sequel.
Diane Franklin – Better off Dead, Amittyville Horror 2.
Scott Jackson – Make-up artist/designer.
and more.
The actors seldom dress up in costume, but that doesn't stop the guests from doing it.
Below I have added some pics of fans dressing up in their favorite costumes. (Sorry for the quality of the pics- iPhone 3 – Smh!)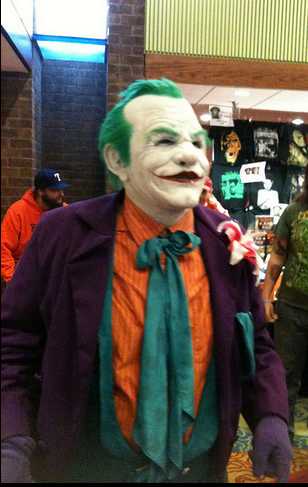 Related Posts: