This is a guest-post from Peter G. James Sinclair of motivationalmemo.

'Anticipate the best.' Barbara Johnson
Are you looking for ways to live the best life possible?
Unfortunately our world is filled with many who live their lives carrying a huge umbrella because they expect nothing but stormy weather.
However, to begin to experience the best that life has to offer you there needs to be a shift in mindset and an adjustment of habits.
So here are 5 ways that you can begin to live the best life possible.
1. Think The Best
As you think, so you are.
Think miserable – misery will be your company.
Think impossible – nothing will happen.
Think sick – remain sick.
Think poverty – remain poor.
Think depression – be depressed.
Now I know that there are those who say that it all depends on our surroundings.
I have a solution. We must become separated from our surroundings. And we can do this through the power of our mind and the resource of our imagination.
Many years ago, while I was packing shelves at a supermarket late into the night and walked for 6 months because we had no car, I never saw my destiny as a shelf packer or a walker. I saw myself as a successful author and an entrepreneur.
I didn't spend a long time packing shelves, nor walking, because of the way I chose to think.
2. See The Best
If we look at the world around us filled with disaster, war, financial turmoil and so much more our vision can become blurred.
But fortunately, you and I have another set of eyes that we can draw upon. These are our inner eyes. This is where we can begin to see what others fail to see.
These eyes see possibility. These eyes see hope. These eyes are filled with faith. These eyes see castles while others only see shacks. These eyes are the eyes that see beyond. They see nothing but the best. They don't ignore the worst, but rather choose to lift their eyes to a higher place, far above the valley and up to the mountain peak.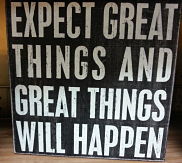 3. Speak The Best
Your words frame your world. I choose to shape my vocabulary so that it only uses words from the dictionary that are filled with faith, hope and possibility.
If I have nothing good to say I choose to keep quiet. I speak what shall be and not necessarily what they are – because I know that both death and life are found in the power of the tongue.
I choose to speak life-filled words such as 'I can, I will, I am able.'
I choose to leave death-filled words for others to use such as: 'I can't, I'll never, I'm unable.'
4. Do The Best
The pursuit of excellence is the autograph I wish to leave on every endeavor I undertake.
As my abilities grow my best improves. But I do not wait for perfection before I begin. I start with what I have and do the very best I can with the current level of abilities I have at the time.
I surround myself with a team that makes up for my weaknesses. They often make me look fantastic, and without their assistance I would never rise to the level of excellence that I currently enjoy.
I compete against my last efforts by choosing to do the best in all that I do.
I sharpen my strengths. I make them sharper through continued practice and constant refinement through the power of evaluation.
5. Expect The Best
Those whom I work with – I expect nothing but their best.
But the way I help them to grow is through regular inspection. You get what you expect by the power of inspect.
I find them doing good things and commend them.
I do not concentrate on their mistakes. I focus on their achievements, and by doing that I have seen them grow exponentially in the sphere of doing their best.
I provide them with clear guidelines, realistic expectations, good systems, great tools, the freedom to be creative – and this has created an environment within which all those whom I live and work with have achieved the very best.
When you expect the best you will get the best. In fact, at times you will actually get better than best – because of your expectation and belief in its delivery.
So anticipate the best – for the best is yet to come.
What other ways have you achieved the best in your life?
Motivational Memo: To live the best is to be truly blessed.
Peter's NEW Short Profile:

Peter G. James Sinclair is in the 'heart to heart' resuscitation business and inspires, motivates and equips others to be all that they've been created to become. Receive your free copy of his latest eBook Personal Success Blueprint at – www.motivationalmemo.com and add him on Twitter @PeterGJSinclair – today!
Related Posts: