"You are the designer of your destiny; you are the author of your story."  ― Lisa Nichols
If you watched the movie: The Secret then I know you know who Lisa Nichols is. I believe she stood out like a bright, shining star in The Secret. Lisa Nichols and Vishen Lakhiani (The founder of Mindvalley) will be hosting a free webinar.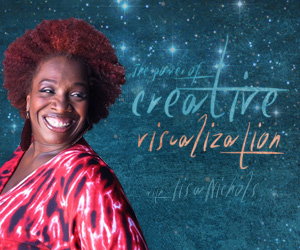 Lisa Nichols is CEO of Motivating the Masses, one of the top training and development companies in the world, a best-selling author of 6 books and one of the most sought-after transformational speakers whose global platform has reached and served over 36 million people.
You can watch Lisa on Youtube here.
The webinar is about an hour and a half so you will want to make sure you schedule time to listen to it. You'll get a reminder email before the class starts, but it won't hurt to add it to your calendar now.
I did.
If you don't know what a webinar is or have never attended one, then you're in for a big treat. As a matter of fact, I attended a blogging related webinar last night, which was 2 hours long.
A webinar is a seminar conducted over the internet.
Once you sign up for a webinar you will receive a confirmation email with the link to the webinar. Every webinar I attended was hosted by a company called Citrix.
Creative Visualization with Lisa Nichols is about using the power of your imagination in positive and fun ways to create the life you really want.
To teach you how to dream big, but not only how to dream big, but how to make your dreams a reality.
Haven't you ever heard someone say that if you can imagine it, then it is absolutely 100% possible to create it into your reality? It's true, you can dream it, you can imagine it and you can visualize it, then you can start manifesting this dream into your life.
Visualizing is a way to review what you would like to experience before it actually happens.
In this FREE class, you will
Experience The Secret's Lisa Nichol's guiding you in Creative Visualization — LIVE!
Discover Mindvalley Founder Vishen Lakhiani's proven "5 Step" Visualization Process, which makes visualization fast, east and effortless — guarantees BIG results.
Learn how to reprogram your subconscious beliefs with the latest cutting-edge science, so you enjoy more abundance, love and success… automatically!
Find out why it doesn't matter if you want to drive a newer car, take a 5-star family vacation, lose a few pounds or get a pay-rise — or even transform your life — Creative Visualization is the key.
Learn two specific phrases you should use when you end your session — so you rapidly accelerate the results you'll get.
Learn the ONE thing you must do BEFORE you start — to put yourself in the right 'frame of mind' to make things happen in the first place.
Learn exactly what to do to make your Visualizations far more vivid and realistic and packed with power.
And much more.
During the webinar, Lisa Nichols will guide you into a powerful Creative Visualization experience live on the call so you will experience one of the most vivid, realistic visualization experiences you can imagine.
Lisa has a gift for this.
The #1 rated teacher of "The Secret", Lisa  Nichols is debunking the biggest myths to becoming a master at manifesting in this powerful 9-part Creative Visualization course.
>>Creative Visualization with Lisa Nichols – Free online webinar.

>>Or go directly to the product page to learn more about Creative Visualization.
P.S. – I am an affiliate for this product and will receive a commission on any sales!  🙂
Related Posts: