"Positive anything is better than negative nothing." – Elbert Hubbard
Positive is the happening of events that are perfect reflections of your preferences and desires. Negative is the happening of events that are perfect reflections of your fears and doubts.
While researching online, I have stumbled upon some articles that give specific advice for being more positive.
While reading thoughts like, stop comparing yourself to others or act as if, or live in the now, I realized they were leaving out some key components.
While these ideas are practical and useful, they won't keep you feeling positive and here is why.
We are physical beings.
Thoughts alone will not change the way you feel.
However, you can move the energy in your body to allow yourself to feel better automatically without having to think about it.
I was given a course a few years ago called: Chakra Healing by Carol Tuttle.
This course taught me the nature of the chakras and how to heal them one by one.
I was already familiar with chakras before the course, but I felt even more empowered after completing the course.
I still have access to the program and revisit certain chakras when I feel stuck or stagnant.
But the key here is physical movement.
I know, it's much easier to sit on the couch passively then it is to move your body.
But body movement works if you want to stay positive.
Once you get the energy in your body moving efficiently then you can begin with the positive thinking stuff.
Do you exercise regularly?
Almost everyone I have ever known has told me the same thing when it comes to regular exercise.
When I exercise I feel better afterwards (emotionally) and when I don't exercise I feel down.
Wrong Thinking
There is such a thing as "wrong thinking".
More often than not, wrong thinking, which equals wrong acting causes us to spend a lot of time cleaning up our mess which never would have occurred if we were thinking right in the first place.
So don't get me wrong, having a positive mindset is complimentary to having a free-flowing, healed, energetic system.
I made this image below to help you understand the mind.
Ideally you will keep your thoughts neutral at best (this is Eckhart Tolle land) and eventually you will steer them towards being positive.
The best gauge for where your mind is at the moment is to notice how you feel. If you don't like the feeling then move yourself towards neutrality and then towards being positive.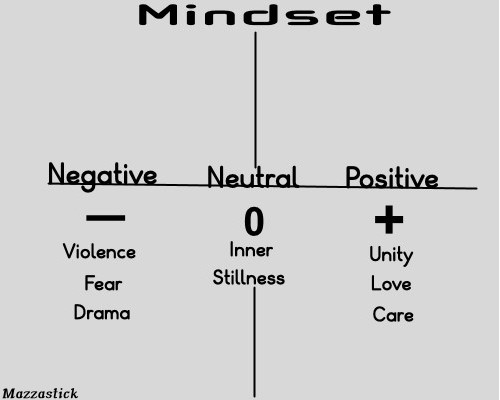 Example of positive thinking and acting
You're late to work and you think that every driver is an idiot and that they should either drive faster or get out of your way.
The challenge with this kind of thinking is that it is disempowering to you and anyone you encounter on the road.
What you would want to do here is to first take a deep breath.
Then you begin to make a simple game plan for getting to work effortlessly and easily.
Step one.
Prepare everything in advance. Have you work clothes pressed and ready to go.
Step two.
Have your coffee, tea, breakfast food prepared the night before.
Step three.
Always make sure your gas tank it at least half full.
Step four.
Leave early. Always, always leave early. Give yourself more than enough time to be where you need to be when you need to be there.
Step five.
Relax while driving. You'll get there when you get there.
Step Six.
If possible find a job closer to home.
These are all simple strategies for staying positive because it is created using a system that you created.
Of course, any self-created system can be altered to better suit your specific needs.
Okay, back to keeping yourself positive.
It's a three part system.
One.
Keep your energy systems (chakras) moving.
Two.
Have positive thoughts even when things look bad. This is a great habit to cultivate because it will keep your spirits up regardless of what is happening in the world and at the same time you are way more resourceful when you are in a positive state.
Three.
Create systems and game plans to work for you without causing harm to anyone else.
Remember, we all share this planet together.
Energy Healing
Every one of us has had both negative and positive experiences in life.
When we are in a positive state of mind we tend to remember the good times. And when we are in a negative state we recall the bad times.
Which ones do you prefer to relive?
I'll take the good times for $100 Alex.
Yes the good times are what we want to focus on because that is what we want to create and experience again and again.
There are some benefits to negative experiences like remembering how much we dislike them.
Other than that I recommend only focusing on what you want to create and experience.
Our physical body is what creates mental states, and our mental states are what creates emotional states.
If you're like me you prefer to create and experience positive states most if not all of the time.
Last summer my family and I would drive down to the local park and walk the asphalt track.
The Asphalt track is a little less than half a mile and encircles the entire park.
Inside the park is a playground.
So we negotiated a plan.
My son would walk the track with my wife and I, and after each round we would stop at the playground and let my son play in there for about 5 to 10 minutes and then we would walk the track again.
After several weeks of doing this – three days a week or more – we all felt better.
We were lighter, happier, and had more energy which led to more productive thoughts and actions.
And walking is a low impact exercise that benefits the hearts and lungs which are integral for detoxifying the body.
But what about winter time?
Right now there is about 5 inches of snow on the ground and it is 9 degrees outside.
I'm not taking my family out in this weather.
So we have to do indoor activities.
Yoga which is nothing more than simple stretching.
Mall walking.
Indoor activities like sports and fitness.
Energy healing which involves both mental and physical movements.
I'm telling you this because Carol Tuttle the creator of the Chakra healing course is hosting a free online webinar and I am inviting you to attend.
Discover your Unique Energy Profile® — and find out how it impacts EVERY area of your life.
Enjoy using this knowledge to improve your life, feel tremendous confidence & eliminate virtually all struggle and stress.
Avoid the ONE major misconception which creates nearly ALL your problems!
Learn how to accelerate healing, live at your highest calling & create total abundance.
You'll learn how EVERYONE can become a master Energy Healer – including YOU – and why this is so important in the world we live.
About Carol Tuttle
Carol started her Energy Healing journey in 1989 as a severely depressed mother of 5 young children. She first tried conventional medical therapy to find a cure, only to be told the "solution" was powerful prescription medicine.
Convinced that there was a better way to heal her depression, she began her study of Energy Healing. It helped her so much that in 1994 she began a new career as an Energy Therapist.
Over the past 20 years Carol has helped hundreds of thousands of people to discover their Unique Energy Type and create more happiness, wellbeing, health and abundance. She is regarded as a global authority on Energy Healing — and this powerful new training is yours, free.
>>>Go here to Join the Free Energy Healing Webinar with Carol Tuttle.
P.S. I am an affiliate for this product and will receive a commission on any sales. 🙂
Related Posts: